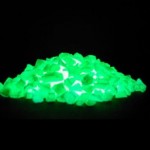 What is it ?
The phenomenom is observed when a material still keeps emitting light after having been exposed to sun or to a source of light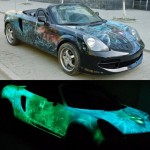 How does it work ?
It stores all type of luminous energy (natural or artificial) and thanks to a molecular process, it reflects back the energy under the form of light.
When the paint is exposed to a source of light, it absorbs the photons.
Composition: Strontium Aluminium , Al2O3, rare earth elements. Found not harmful, non-radioactive product !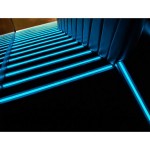 Advantages
•  Compared to an expensive electrical signal, phosphorescence doesn't depend on an electricity source and thus is not affected by power outages.
• Installed quickly, cost-effective, invisible by day, very resistant indoors and outdoors (under the sun or the rain), and the effect lasts up to 25 years without specific maintenance. Note that this product is not radioactive !
Application
Important for local communities and buildings that receive visitors, used for safety and in industry, and by sculptors and architects as well for art and design.
* For decoration:
Phosphorescent products can be used for decoration, design and design furnitures.
You can particularly use phosphorescent mosaic tiles in bathrooms,  as phosphorescent stones and pebbles can help you in arranging gardens, etc.
Decoration: mosaics, stones and pebbles, sand, phosphorescent paint.
* For safety, signals and industries:
The European  NF EN1838 standard gives very precise outlines :
– Allow the evacuation of areas,
– Ensure easy location of safety and fire fighting equipments
– Reduce the risk of panic and maintain visibility in hazardous areas 
– Faciliate eventual emergency services
The means required:
– A location lighting of the paths to follow
– A minimum of lighting of evacuation routes and around safety equipments
We also offer a wide range of solvent-based or water-based paints for walls and floors and for supports such as wood, concrete, metal, etc.
For safety and signals:
Phosphorescents Adhesives
Phosphorescent retro-reflective tapes
Phosphorescent adhesive arrow tapes
Anti-slip tapes
Luminescent stair nosings
Photoluminescent paint
Phosphorescent adhesive arrow tapes / adhesive phosphorescent tape/ retroreflective phosphorescent tape
photoluminescent paint / phosphorescent markings / phosphorescent stair nosings
For industries:
New generation of pigments
Concentrates
Phosphorescent plastics
SDC co Ltd is one of the leading companies in Europe.  We manufacture and distribute all types of high technology photoluminescent products .
For further information please contact your technical  advisor: Mr. PEREZ :  infos@stardustcolors.com