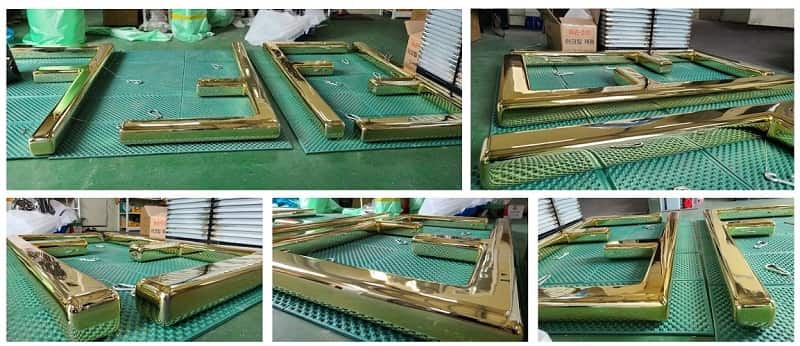 Gold is the most precious and beautiful metal, when polished it forms a reflective mirror.
This stainless metal born in the heart of the stars is synonymous with luxury and rarity.
In the field of decoration, gilding, chrome paint or gold chrome plating is regularly used for shop windows and signs.
Firstly, the galvanizing technique, which is a complex and expensive technique, is now highly regulated. There is also the technique of polished aluminum with a colored varnish.
The innovative technique that we are going to present to you here and probably the easiest, the most suitable for all types of surfaces and materials:
This technique is called silvering, it is an old and well-known technique which consists in metallizing a surface with a microscopic layer of pure silver. This forms a silver mirror that resembles chrome and even surpasses it in the purity of the mirror effect.
Once this chrome effect has been achieved, the piece becomes colorable as desired, with a very simple technique which consists of adding a concentrated colored ink (this is called a concentrated candy) in the varnish which will protect the silver piece.
We thus obtain mirror gold or any color of colored chrome, red, blue, green, and even black…
All-terrain gold chrome plating for letters and signs
Whether your letters or pieces are made of wood, metal, plastic, or any other material, it is easy to prepare them to receive the silvering process.
There are indeed primers suitable for all surfaces and once these surfaces are prepared to receive the paint, the technique is then imperceptibly the same.
It is a complex technique, but achievable by any painting professional.
Step 1 consists of the application of a glossy varnish which serves as a base for the silver.
Once it is dry, we will come and apply a succession of chemicals and rinsing based on distilled water and in a few minutes, the silver will create a chrome mirror on the surface.
The last step consists of varnishing, and in the case of the creation of a golden lettering for a sign, we apply a varnish colored in yellow.
It is possible to make any type of gold tones, from old gold, to pale gold, or even ingot yellow gold.
The possibility of its golden signs to resist outdoors
It is true that the adventure has an unfortunate tendency to oxidize, it then sports a slight yellowing which will increase over time. It is inevitable, but however, it is completely negligible when one makes a silvering with a golden varnish: this slight defect then becomes unnoticed.
It is the same for any other color that one can choose.
We can therefore conclude that the adventure is a suitable process for the production of golden signs subject to external conditions, in particular variable sunshine conditions.
Is this gilding process for signs toxic or regulated?
Without advertising this innovative technique, because we are there to convey objective and critical information on each process and solution, we can clearly say that the technique does not use any carcinogenic or toxic product, as is the case for galvanizing processes, which involve chromium, real chromium, which is toxic and carcinogenic. The adventure is certainly a process reserved for professionals equipped with cabins and respiratory masks, but it only involves ammonia and silver nitrate, products which are harmful but far from being toxic.