Stardust bike is the new range of bike paints in spray format.
Long awaited by many bike customization enthusiasts, the bike paints Stardust Bike line includes all the basic bike paints (primer, basecoat, color, and clearcoat), as well as the fabulous special effect colors.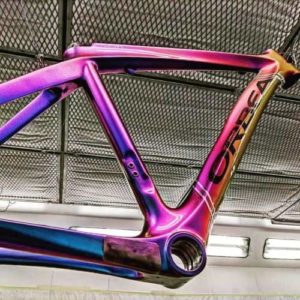 Previously available in can format, for professional spray painters, specialists in the decoration and customization of bike frames, the amazing Stardust Spray Bike paints from StardustColors, are now available for the most part, in 400 ml spray version, with as target market, individuals and cycling enthusiasts wishing to give a new look to their bike.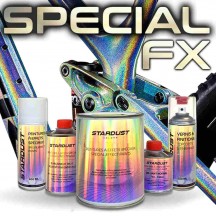 | | |
| --- | --- |
| Ral & Pantone colors | free colors to choose from, and custom made |
| Candy effect | transparent, very bright, and sparkling colors (collection of 25 shades) |
| Chameleon effect | multi-color paints, changing according to the point of view (36 shades) |
| Fluorescent effect | Ultra vivid colors (12 shades) |
| Crystallized effect | Crystallization decoration and depth effect, with choice of color |
| Metallic effect | Pure metallic and body colors |
| Pearl effect | Iridescent colors with intense colors |
| Holographic effect | Rainbow prismatic paint effects |
| Chrome effect | Imitation of chrome metals with mirror effect |
| Crackle Effect | Produces cracks with a contrast color + black |
| Phosphorescent effect | Luminescent paint in the dark |
| Marble effect | Illusion of texture, with colored iridescence effect |
| Opalescent effect | imitation of multicolored and natural white pearls |
| Graphic colors | color spray paint kits to make custom decorations |
Make your own bike paint, with STARDUST® BIKE spray cans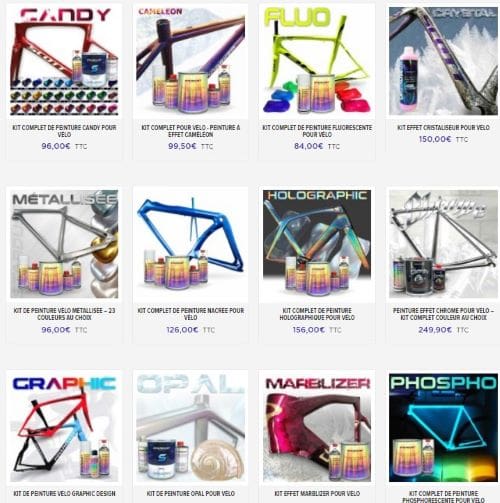 At a professional bike paint shop, you can expect to pay anywhere from €300 to €600 for a complete frame painting, depending on the complexity of the design and the type of paint.
Some chameleon or holographic paints reach several hundred euros per liter.
With a STARDUST Spray Bike kit, the average cost is 120 to 200 €. The cost corresponds to professional quality products, not available in "consumer" stores.
Now, with Stardust Bike spray paint kits, anyone can repaint their bike, with a professional look. The spray paints make it possible to achieve the same level of finish as that achieved with a spray gun.
A range of primers for the specific surfaces of carbon and aluminum frames is available.
A range of varnishes with hardener is also available in STARDUST Spray Bike.