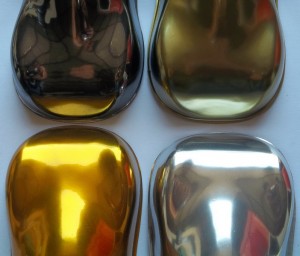 There are several types of Gold Paint:
– Classic car gold paint (with dye) (picture 1) Shines under a source of light (natural or artificial) and adds some luminosity to your painting projects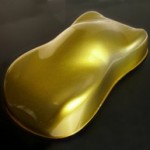 - Pearl Gold paint (no added dye) (picture 2) Produces a bright and vivid colour and is easy to apply over any coloured basecoat and will add brilliance to your vehicle's design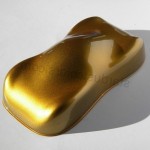 – Diamond Gold Paint (picture 3) Transparent –  their gold effect is achieved by reflection of light. Made out of tiny pieces of glass that reflects the light and high temperature resistant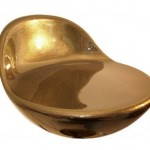 – Candy Paint (aluminum or pearl background) (pictures 4 and 5) More UV resistant, intense and fine quality dyes. Provides the highest quality finishes for designers, fabricators, artists, companies in the display, prototyping, motorcycle paint, etc.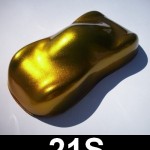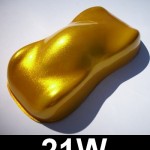 – Real Gold Paint (picture 6)
Almost as fine as chrome paint – An exclusivity of Stardustcolors 
Gold chrome paint effect finish that literally looks completely reflective (mirror), and that exactly duplicates chrome plating or colored chrome finishes. Chrome gold paint can coat any type of material: metal, wood, glass, plastic, stone, fiberglass, ceramic, previously painted surfaces, galvanized metal, brick, concrete, as long as this later is smooth and has been previously prepared (follow standard practices and  procedures for properly preparing surfaces for the application and provide adequate ventilation)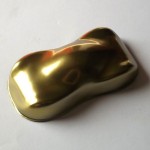 This finish is achieved without toxic products. Perfect resistance to abrasion, chemical products, bad weather conditions and UV.
GOLD Effect
None of the above techniques can match the Candy on Chrome technique:
How to paint a Gold chrome paint ?
Simply apply our Candy paint Yellow Gold 21 clear coat over chrome paint that has dried for 96 hours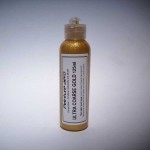 StardustColors provides small quantities of different paints packaged in small bottles specially designed for airbrushing. The perfect fluidity of the paint and their special dilution allows you to work easily and comfortably.
 Professional quality airbrush paint, suitable for model-making and tuning paint as well.