How to create a car body paint with matt or satin areas?
When creating a custom paint, for example on a car bodywork, a motorcycle fairing, or on a bike frame, there's a very interesting effect which is the association of a matte surface with a glossy surface.
Juxtaposing a beautiful matte topcoat with a gloss clear coat gives a fantastic aspect, but it raises technical difficulties related to implementation and some questions:
– What to do first? The gloss topcoat, or the matt clear coat?
– How do you hide and sand certain areas?
– How not to leave any white marks caused by sanding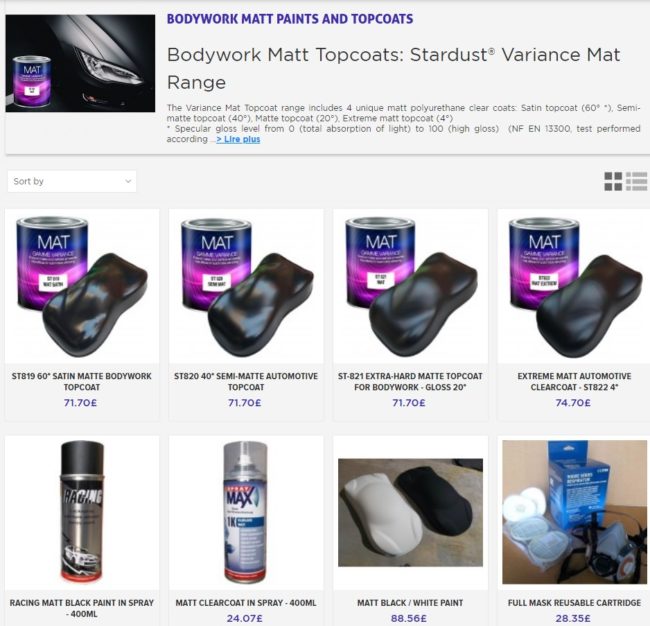 StardustColors, with the help of Bryan la tinta for the application, teaches you the trick to create a matt and gloss topcoat:
1 – First, it is necessary to apply the topcoat in the classic way, with a gloss bodywork clearcoat, to the entire painted work. This will form the glossy areas, which will be masked off thanks to the masking tape
2 – Apply then the masking tape to hide the areas that must remain glossy.
For fine lines, especially for very tight curves, we can use a lighter to soften the line.
3 – You can now use the matt clear coat. How to achieve a good adhesion?
Do not sand. If it's done with an abrasive sponge or paper, it will leave white marks under the adhesives, and this will produce a very poor appearance once the masking tapes are removed.
4 – Make a quick and superficial flaming to obtain good adhesion on the substrate.
After flaming, apply a very fine pass of matt topcoat within 60 seconds.
5 – Matt clear coat: it is important to apply only a very thin coat, to avoid a "stair" effect, and also to obtain a good adhesion.
Also, it is recommended not to load the edges of the adhesives with product but instead, simply apply a thin pass around the masking adhesives. This will create a smooth and seamless finish.
6 – Remove the masking tapes, then let the matt topcoat dry completely.
Using a sticky pad, clean and scrub to soften the low edges