Different « chrome effect" metallization techniques:
Silvering (silver), galvanisation (decorative chrome or hard chrome) and vacuum metallisation (aluminum) are different techniques that consist of depositing a metal layer on materials for decorative or technical uses.
Among these techniques, apart from galvanic chrome plating which is a constraining, toxic and polluting process that is increasingly regulated, silver metallisation is the most efficient technique.
Discover the handheld metallisation equipment:
and chemicals with base and topcoat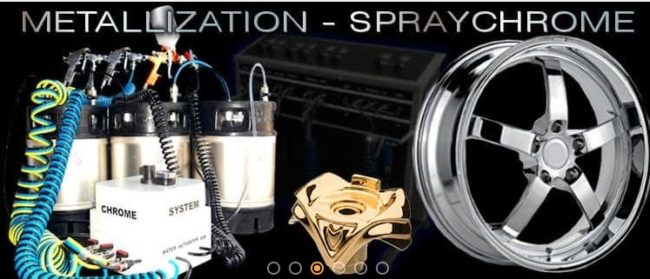 The traditional silvering process of reducing a silver salt, to create a « silver mirror », was used for years in the mirror industry specifically, and has been remarkably improved and developed by a French company which now proposes this innovative and patented technology to small and large businesses in 47 countries, to easily achieve a chrome effect on all substrates!
The 5 advantages of this original metallisation technology:
– application on almost all types of substrates
– non toxic products
– easy and quick technique
– chrome surface that can range from a few centimetres to a few meters
– efficient and economical, with prices ranging from 15 to 20€ per m²
This innovative technique has many varied applications in different areas:
luxury, automotive, bottles…
The chrome finish is of high quality: it is almost indistinguishable from a real chrome and produces a real mirror effect.
Metallisation using silver nitrate solutions is sprayed with a double nozzle gun
The silver layer is provided in a thickness of 0.1 microns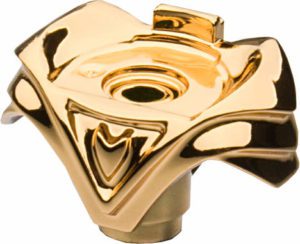 Pure chrome effect:
Metallization with silver nitrate is currently the technique that gives the best results and the least toxic method.
The quality of the chrome effect finish is far superior to that of sputtering for example.
Non-hazardous:
the products do not contain any CMR substances or toxic products (except R2S version that contains formaldehyde)
Economic performance:
from an economic perspective, it is by far the most profitable at a cost of less than 20€ per m²
Flexible application:
application using traditional methods (small workshop) or industrial application in automated serial production
2h: minimum time needed for metallisation of a part.
Applying the colourless gloss base (fast baking: 30min)
Spraying the silver nitrate solution, rinsing and drying (5min)
Applying topcoat then drying (30min)
The metallisation process allows you to create coloured Chrome effects using coloured clear coats
Contact info@stardustcolors.com
to receive free documentation