I wish to create a white and red pearl paint with glitter on my Supra Comp TS6 Ski Boat. The boat measures 6m by 2m with a hull whose height is of 0.70m. The red band measures 0.30m. Can you give some tips on how to proceed and which painting to choose ?
Sincerely, Michel.
Stardust Customer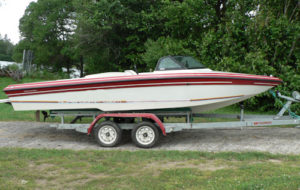 Can we use a « car paint » on a boat and will it hold?
Solvent-based and polyurethane automotive paints are suitable for structures in marine environments. Our primers, including the filler primer surfacer, can be applied over a gel coat (after sanding with 400 grit abrasive paper). The bottom will be blocked, smoothed and improved.
If you follow the substrate preparation and sanding procedures, all the layers (primer/paint/topcoat) that form the « multiple layers » of the paint will be bound and perfectly protected from water and peeling.
You can use any effect paint on a boat without worrying about resistance to salt and water. It is actually the final topcoat (polyurethane or epoxy) that will serve as a barrier against the water. Automotive clear coats are perfectly waterproof and UV resistant.
What can I use as a primer?
In all cases, it is necessary to apply all over the boat a filler primer surfacer, in thick passes, to be sanded once dry.
This primer will serve as a white background and also help to block and perfect the bottom.
This product includes a very resistant hardener, that can be found in the PRIMERS section. A 1.5L Kit covers 4 to 5sqm in two passes. A 6L Lit covers 20 to 46sqm in two passes. This primer is applied using a spray gun with a nozzle of 1.4 or 1.7mm minimum
I wish to apply a paint with glitter, something unique that stands out?
We advise then to apply all over the boat a DIAMOND paint, White or Cosmic White.
It's a very iridescent paint with glitter effect.
If you want us to customize this Diamond paint with flakes larger than 500µm (0.5mm) instead of 100µm, it is possible.
This paint is applied using a spray gun with a standard nozzle of 1.2 to 1.5mm. When diamond flakes of 500µm (1.7mm) minimum are used, then it will be necessary to use a bigger nozzle.
Diamond paint coverage rate: 4sqm/kit. The kit consists of 1 liter of pure paint + 1 liter of thinner.
How to paint a strip of red glitter paint?
Once the white Diamond paint is dry, apply
adhesive stripes, or other masking adhesives to paint the red stripes.
There are two options available to you:
– A ready-to-use paint, the Bright Red Diamond, which requires an already existing white background.
or
– Red Metal flakes, to produce a very strong glitter effect.
To apply these flakes, mix them into our « Transparent matte base binder »
You will need 50g of glitter/sqm
Once the red strip is painted, remove the adhesives
Then apply the clear coat. A beautiful glossy and thick topcoat is used, like our 83 Ultra High Solid clear coat or our anti-scratch HS clear coat.
It is important to topcoat within 30 minutes to ensure cohesion between the layers.
If such time frame has been exceeded, you will need to recreate adherence with a grey abrasive sponge on the whole.
Download the http://www.stardustcolors.com/documents/fr/catalogue.pdf