We use only the highest quality raw materials when manufacturing this paint.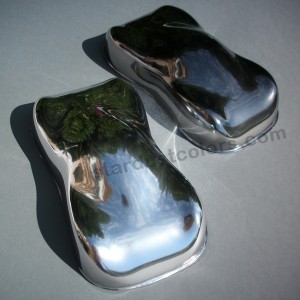 In comparison with chrome paints of competing brands, our chrome paint is by far superior, according to many users reviews:
-Pure mirror chrome aspect
-Very pleasant to work with, non harmful
-Instant dry
-Good concentration and coverage power
-Excellent adhesion
Chrome spray paint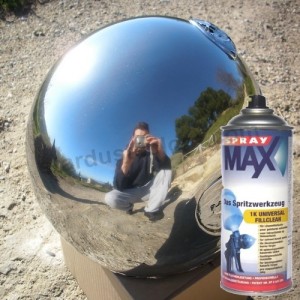 We have developed the first chrome spray paint that creates real chrome look on all small size objects. The spray is equipped with a special nozzle and the paint is always used on a black, hard and glossy background.


How to make chrome paint ?
Adhesion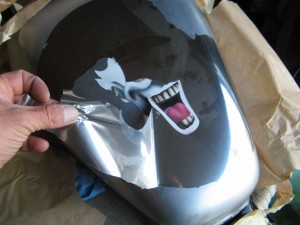 We cannot guarantee the perfect adhesion of the chrome paint as it is applied on a surface that is obligatorily not sanded.
However, chrome paint shows excellent adhesion.
Paint adhesion tests, including by tearing, shows adhesion strength up to 4MPa.
What NOT to do : Never polish, nor use polishing products such as PolyLustre, or a polisher for the undercoat, or the paint will peel.
Excellent resistance
Chrome paint, once it has been clear coated, is as resistant as any automotive paint.
-Resists to high temperatures up to 300°C.
-Not sensitive to UV sun rays.
-Can be sanded and re top coated to repair a scratch
Any type of substrates (plastic, polycarbonate, metal,  aluminium, wood) can be used as a support for Chrome paint.
Coloured chrome paint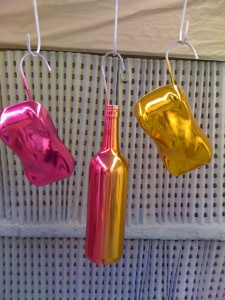 You can also combine chrome paint with our Candy paint colours to get coloured chrome mirror finish (as shown in the picture below). The effect is very simple to achieve.
After having applied the chrome paint and let it dry thoroughly, add a few drops of concentrated Candy paint to the clear coat, mix and apply directly on the chrome surface.
The result is always amazing.
Our chrome paint also exists in GOLD effect complete kit, that provides a very close imitation of gold mirror like surface, also designed for various types of substrates, for an unique shine.
Our chrome paint is proposed in different packings and is available immediately in stock.
FAST DELIVERY  UK 48 hours.
Place your order at StardustColors UK