Stardust, the French special effects paint manufacturer, expands its already unique collection of 18 "chameleon" colors, with an impressive series of 16 "Extrem" chameleon colors.
What is the difference with the previous range?
First of all, the price, which at first sight seems to be much higher than that of the Standard chameleon paints.
The reason for this price difference? probably, the composition and rarity of the material constituting the chameleon, which does not seem to be made of classic synthetic mica particles, as found everywhere in the world of automotive paint.
Indeed, Extrem colors are made from a magnesium substrate, covered with thin layers of metals deposited by an electrical process.
The result?
Very powerful metallic colors, very vivid and saturated in color, compared to conventional "colorshift" paints.
These paints also offer a better coverage.
One can see at first glance the very marked contrast between the color changes: Each Extrem reference shows radical color changes, with 2 to 6 changes, depending on the angle of observation.
Description of the color change or "color travel"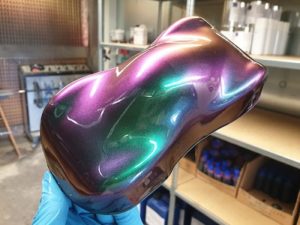 L1009 ORIONIS : the only chameleon to show 6 to 7 colors, with green, turquoise, blue, purple, red, orange / gold
L1010 CENTAURI : a 3 colors shade, quite atypical, in light and fruity tones, green gold and pink
L1020 DRACONIS : a reference with only 2 color changes, green and silver (silver is a rare color in chameleons)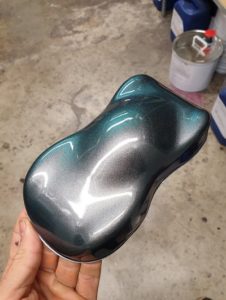 L1030 MAJORIS : another reference with 2 colors, turquoise and silver (a rare shade)
L1050 AFRICA: a beautiful tri-colored chameleon, with the colors of Africa: green, yellow and red
L1060 ANDROMEDA: a 4 colors chameleon, unique in its kind, combining cold and warm tones; brown gold, green, blue, purple
L1070 SAPPHIRE: It belongs to the chameleons, although its effect of change is almost unspeakable. It is a very beautiful deep blue, which extends on the purple.
L1080 GAMMA LEONIS : a real Gold, which turns into green, on angles >30°.
L1090 NEBULAR : the very famous Gold, green, blue, ultra powerful in terms of color vivacity
L1100 SIRIUS : a two-tone green-blue shade, twin of the standard 225 chameleon shade
L1210 ALPHA BOREALIS : An extraordinary variant of the standard shade 217, turquoise blue violet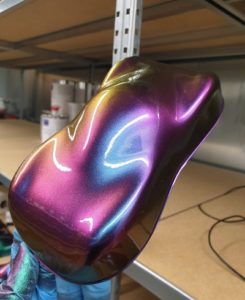 L1230 EPSILON : one of the most famous colors : turquoise blue violet red orange
L1280 SAGITTARII : this is the most famous color, like L1230, with a deeper blue instead of turquoise.
L1864 SCORPIUS : A rather special color in shades of green and light brown
L1866 L1866 ALDEBARAN: a very energetic color with 3 colors, two of which are titled in the color wheel: pink and green
L1868 L1868 ARCTURUS: a variant of L1866, which replaces the pink color at the end of the "color journey" with red orange
L1870 ANTARES: This is a two-tone color that has taken the name of the giant star, which wears its name well with its burning orange, which turns into green
L1830 HELIOS: Two-tone chameleon orange and red
Can a chameleon paint be applied in all fields?
Given its total resistance to the sun's rays, a "colorshift" color is perfectly capable of being exposed outdoors, even at the southernmost latitudes, for decades without seeing its color fade.
In addition to being particularly easy to apply, Chameleon is truly the king of special effect paints, as it is truly a paint that catches the eye, surprises, and intrigues (it does that, in that order)!
The application of these paints is particularly in vogue in the world of bikes, but also in all areas of equipment and design objects.