How to start and specialize in hydro dipping?
The hydrographics printing process involves immersing any item through an inked film placed on the surface of the water and dissolved with a solvent.
Dipping comes from the English word « to dip« .
In this process, the parts to be printed are treated with a special preparation before their immersion into the hydro dipping tank.
The object to be customized must be perfectly clean, cleansed with specific products to eliminate all the residues, greases, silicones, etc. which could affect water transfer printing.
Useful advice for preparation:
Use a specific adhesion primer.
Apply an undercoat and sand thoroughly with an abrasive sponge and some dishwashing liquid (to remove the surface tension).
Once the substrate is clean, apply a base colour (this base colour depends on the hydro dipping pattern you are working with).
This innovative process known as hydro dipping, water transfer or even hydrographics is a printing technique by immersing an object into floating inks,
which allow the application of tridimensional images and effects by dipping in water (into a water transfer tank).
How does it work?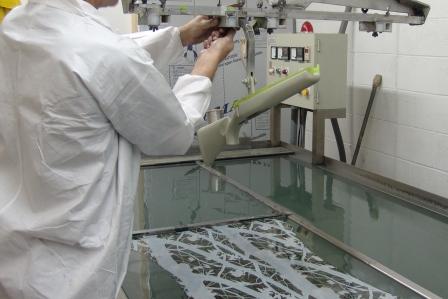 Hydro dipping is a 3D printing method in which an object is dipped into water, through a hydrographic film deposited on the water surface.
Water transfer applies to any type of hard-surface object, once this surface has been prepared and primed.
The first stage of the hydrographic transfer process is the application of the background colour (a paint, usually a matt basecoat for auto body works, is used). Carefully sand the surface so that the transfer film adheres to it securely.
The hydrographics film is made of inks printed on a very fine and light polyvinyl alcohol-coated sheet which, when deposited in the water transfer tank, floats on the surface of the water.
The film will be dissolved using a solvent-based activator sprayed over. The piece is then delicately immersed into water, through the floating ink layer, which wraps around and adheres to the item.
Once the part is removed from the water, it's rinsed with warm water to get rid of any film residue. The piece is completely dried then topcoated with a car body clearcoat to protect the hydrographic pattern.
Is it necessary to sand before applying the topcoat?
No; besides, the film would not withstand the sanding due to its frailty and finesse.
The topcoat directly adheres to the ink.
*********

***************
How to install a hydro dipping workshop?
100 to 200m² premises are necessary, with a separate room for preparation and sanding, another room for painting, a room for dipping and a room for storage at controlled temperature.
The undercoat painting stages and especially the topcoating stages require a paint booth, to extract fumes and to avoid dust.
The hydro dipping can be achieved out of the paint booth. However, during the spraying of the activator (100% solvent based), the room must have sufficient air circulation.
Equipment needed:
A sanding station, a spray gun and a compressor, a suitable dipping tank, and supports to hold the parts during dipping.
Which model of dipping tank to choose?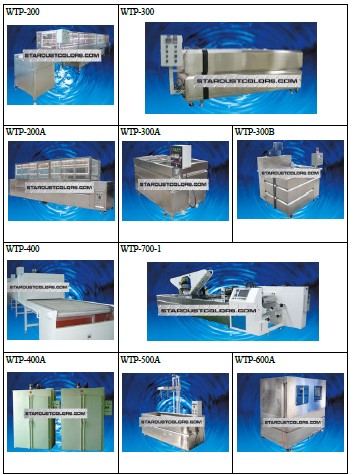 The Wtp300 is the smallest model; it allows an efficient and professional manual dipping. The tank is economical and affordable compared to the automated water transfer equipment limited to industrial installations.
***********************************************
The WTP300 manual dipping tank for hydrographics transfer measures 2.20m by 1.20 m wide by 1m high (300kg)
It allows to dip pieces up to 200cm by 100cm.
It's manufactured from stainless steel and uses 220V (6kW).
It's equipped with a heating system and a water recirculation system
The tank also relies on an automatic floating valve for filling and a water pump.
Price: 4800€ (excluding taxes)
***************************
Hydrographics – also referred to as transfer printing or dipping – involves applying an ink film to a surface
StardustColors is operating since 2006 in the field of custom paints. StardustColors plays a pioneering role in the field of hydrographics transfer and distributes a range of professional manual and automatic hydro dipping machines.
The website offers different patterns for hydrographic films, sold per square meter or per roll of 100m² or 250m².
StardustColors is not only a distributor but also a manufacturer of a range of activators with, since 2016, new high-performance formulas that ensure a perfect film dissolution and excellent adherence.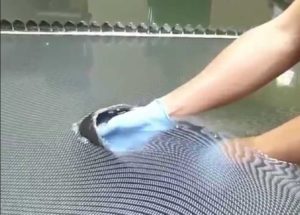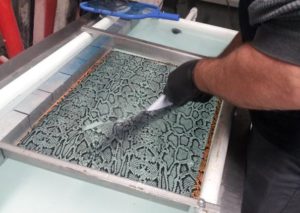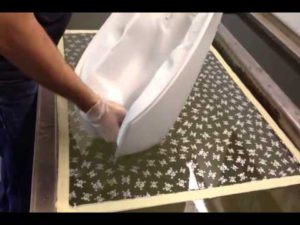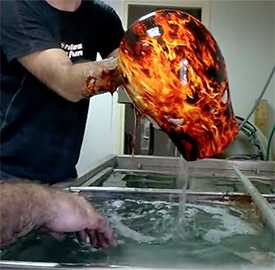 How to participate to a hydrographic transfer training?
Contact us by email to get our trainers contact details.
How to get the catalogue for the 800 hydrographic patterns available?
Contact us by email to get the complete catalogue
All hydro dipping machines for water transfer are supplied with a CE certificate of conformity (LVD and EMC)
StardustColors keeps a permanent stock of WTP300 manual hydro dipping machines
Delivery within 48hrs in France.
Are there blank films to print?
Yes. These blank polyvinyl films are available to order but with 100m² minimum size required. Note: they are sold at a significantly higher price than the printed film price, however they allow easy printing with most of printers.
Frequently Asked Questions:
What are the possible applications for hydro dipping?
> Electric and electronic
> Furnitures and kitchens
> Automotive Parts
> Indoor and outdoor decoration materials
Are hydrographic prints UV resistant? Are they durable?
Yes, the inks used are resistant against UV-rays, and their resistance is increased with the topcoats applied over the surface.
We like to let our products speak for themselves: Some of our biggest customers are boat manufacturers, with very high level requirements in terms of resistance: many parts spend most of their time exposed to direct sunlight (e.g. instruments, dashboards).
What products do I need? Do you provide complete kits?
– 1K Basecoat or primers
– Transfer film
– Activator
– Automotive clear coat
You can find all these products here
What are the costs?
Hydro transfer is very economical. The film price is from 5 to 15€ per square meter.
In addition, the technique eliminates the most common problems associated with conventional methods such as hot printing process, screen printing, etc.
Is it difficult to learn the process?
Approximately 30 hours of training with an experienced applicator provides an overview of the essentials of hydrographic transfer.
A period of 2 to 3 weeks afterwards helps you gain complete control of the production.
Can badly printed objects be reprinted?
Yes, prints that are not satisfactory can be dipped again, as many times as you want.
In what form is the transfer film sold?
Per roll of 50, 92 or 100cm. The film can be stored for a period of 1 year by respecting temperature and hydrometric conditions.