Do it yourself – Auto-moto painting!
Do you want to give a new look to the old paint of a motorcycle?
Do you want to create yourself a custom paint on your scooter?
Or repaint yourself a wing on your car?
It is of course possible! And this without using the services of a professional (car body painter), effective in most cases, but not everyone could afford it!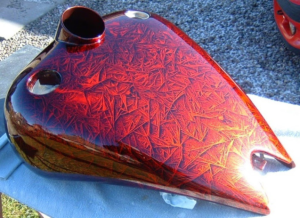 There are two options:
Use a spray gun, like a pro, or
An aerosol. It is more difficult, imprecise and less economical, but you can achieve a good job if you do it carefully. Of course, the aerosol version should be considered only for small surfaces, never for a car
Products:
Stardust Colors offers complete kits for many of its effects paints, greatly simplifying the selection of products. The instructions are provided and various « How to make it » tips and videos are available on the product pages.
For example, the Do It youself series include
for scooters: the Scooter Candy kit and the Crystalizer effect kit
For motorcycles: The Chameleon, Candy, Chrome, Pearl, Metallic, Fluorescent paint kits…
For cars: The same kits, but bigger.
For manufacturer's colour tone, there are paint kits + clear coat and accessories (degreaser, abrasive sponge and degreaser)
For Phosphorescent and fluorescent effects, by mixing epoxy resins and pigments, you will find complete kits at http://www.phosphorescentpaint.co.uk/
The « Chrome at home » chroming kits are quite exceptional since they give the opportunity to anyone to create real chrome effect on any substrate, in any colour.
Key tools for a painter!
Whether you paint a car body or a piece of furniture, it is pretty much the same…
For the preparation phase:
You need sandpapers
primer
duster buffer
For the painting and topcoating phases
a small compressor
a spray gun (a large choice of economic spray guns is available on Stardust Colors Webshop)
http://www.stardustcolors.co.uk/174-spraygun-and-airbrush
What to do when you have dust in your clear coat, since you are working without a paint booth?
>> Discover the polished-gloss technique (article on our blog)
Do it yourself!!
Do it yourself, for fun, but also to be successful and proud of yourself!
For this, all you need is to train a bit and follow carefully the instructions.
Choose a clean, dry, dust-free and properly ventilated area that you will use as a workshop.
Do not hesitate to ask for advice from our Stardust technical service
(replies seven days a week: info@stardustcolors.com )