StardustColors specializes producing paints
for 
automotive, but not only!
Our paints prove big hit with architects and designers
Today, a very large number of European or International clients, are interested in our pigments and in our special effects paints.
Architects and interior designers
Sculptors, designers (works of art, furniture…)
Manufacturers and scientists (clocks makers, chemical industry)
Bottling (perfumes, crystal glassware)
Our photoluminescent paints and materials
Our phosphorescent paints and photoluminescent products are also very popular and often represent an innovative solution for :
Buildings welcoming general public, to ensure safety in performance venues, trains, hotels, nightclubs.
Events during the day or at night
High tech products designed for artists
Everybody agrees that we offer the technical expertise and the necessary advices for the study and achievement of ambitious projects.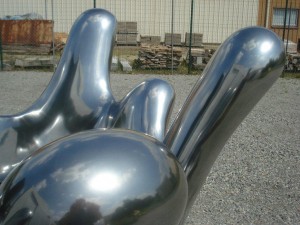 From the preparation of substrates such as concrete, or aluminium cladding, to the application of phosphorescent paint for architectural and artistic projects or of chrome paint resistant to bad weather conditions.
Our paints can be applied over various substrates such as glass, woods and mediums, metals or plastics and allow to many artists, sculptors and designers to fully realise their ideas.
 We propose a full range of adhesion primers.