BIKE PAINTS KITS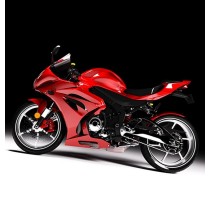 SCROLL DOWN THE PAGE TO SEE THE PRODUCTS !

StardustColors, the first european special effects paints manufacturer for automotive and motorbike, proposes a selection of some of its best effects, sold in complete paints kits.

These kits are supplied with a choice of different paints cans: Undercoats, intercoats, and topcoats, coming with hardener and thinner. Painting your bike: Normally a professionnal painter should do the job. All the application instructions are indicated on the cans. For more technical informations, we are permanently at your service: please contact us by email or phone

Quantity of products : The composition of each kit is carefully calculated to contain enough to enable the client to easily paint an « overall paint job » on a large size motorbike (sport bike with fairings). For exceptional cases (Harley with 'fender', 'dashboard' and suitcases) do not hesitate to contact us to get additional quantity of products. The paints proposed below are all automotive solvent-based paints. Some are more difficult to apply than others, but in all cases, the works will be successfully achieved by the experienced painter, if the instructions are carefully followed.

Degree of difficulty, low :
- Chameleon effect (multiple colours pearly reflections)
- Holographic effect (rainbow iridescent reflections)
- Diamond effect (the latest family of pearls with exceptional properties)
- Interference effect (transparent pearlized reflections)
Degree of difficulty, medium :
- Candy effect (transparent colours and '2-stage' system
- Crystalizer effect (ice crystals patterns)
Degree of difficulty, high :
Metallic mirror chrome effect
Our best quality clear coat is included with each Kit : it's the Ultra High Solid topcoat, which guarantees an exceptional long lasting gloss, and the best resistance to shocks as well. Note : for motorcycles with flexible 'parts', we can offer for free, our flexible additives.
Packages are shipped immediately after the reception of payment.